Swimming - Boys' Varsity
2022-23
Pennington's swimming program has enjoyed a long tradition for over ninety seasons, making it one of the oldest programs in secondary schools in New Jersey. The varsity swimming team trains eight times a week in season, including morning and afternoon practices. In recent years the team has won twenty-three NJISAA state championships going back to 1996 (twelve state titles for the girls' team and eleven state titles for the boys' team; the boys and girls both won the 2020 NJISAA State Championship). The boys' team also won the 2020 Mercer County Championship, and our girls team scored the most points overall (Prep A or Prep B) at the 2020 NJISAA State Meet.
In 2012, Pennington started an aquatics program that includes lessons, lap swimming, and an aquatics class that teaches swimming within its curriculum. Our swimming program also includes a middle school team. On campus, USS teams have trained Pennington students, as well as swimmers in the larger community, year-round. Additionally, numerous varsity swimmers have recently gone on to swim for North Carolina State, Virginia Tech, Southern Methodist University, Drexel, Tufts, Amherst, Denison, University of Pennsylvania, Fairfield, Ithaca, University of Maryland Baltimore County, Occidental, Georgetown, Penn State, Michigan, Lafayette, Lehigh, and Kenyon, among others.
The School's aquatic center, renovated in 2020, features an indoor, six-lane, 25-yard pool with a Colorado Touch Pad timing system and a combination swimming and water polo scoreboard. In addition, our pool became a certified NISCA pool location after three high school national records were set in 2021 by David Curtiss '21, including the fastest-ever Boys 50-yard freestyle of 19.11 in March of 2021. Underwater filming for stroke analysis and winter break training to southern Florida have also been part of the swimming program.
The team competes against Prep A and B teams as well as Group III and IV public schools in New Jersey. The season concludes with the Mercer County Tournament, NJISAA State Tournament, and Easterns. In the last three years (2019 through 2021), Pennington Swimming has had fifteen All-American performances, seven national records, seven boys' Mercer County records, five boys' and one girls' NJISAA state record, twelve All-State performances, and numerous pool records, including Germantown Academy, the Lawrenceville School, Franklin & Marshall College, and Blair Academy.
David Curtiss '21, who currently swims for NC State, swam the fastest male high school 50-meter and 50-yard freestyle in the country during his senior year at Pennington. On March 6, 2021, Curtiss swam the fastest 50-yard freestyle in national high school history, public or private, at the Pennington home pool, listing it as a certified 25-yard pool on the NISCA website (learn more). Curtiss also qualified for the Olympic trials and placed sixth overall in June 2021 in the 50-meter free finals in Omaha, Nebraska. He is currently a member of the National Team and is among the top five in the country.
George Ward '88 has been coaching since 1994 and Scott Doughty since 2003. Head Coach Ward is also the aquatics director at The Pennington School, and Pennington is an authorized provider of American Red Cross lessons.
Pennington School Swimming Records: 2020–21 Varsity Boys' Records
View the top times from 2018–20.
View the 2020 Easterns results.
View the 2020 and 2021 NJISAA Championship results and team rankings.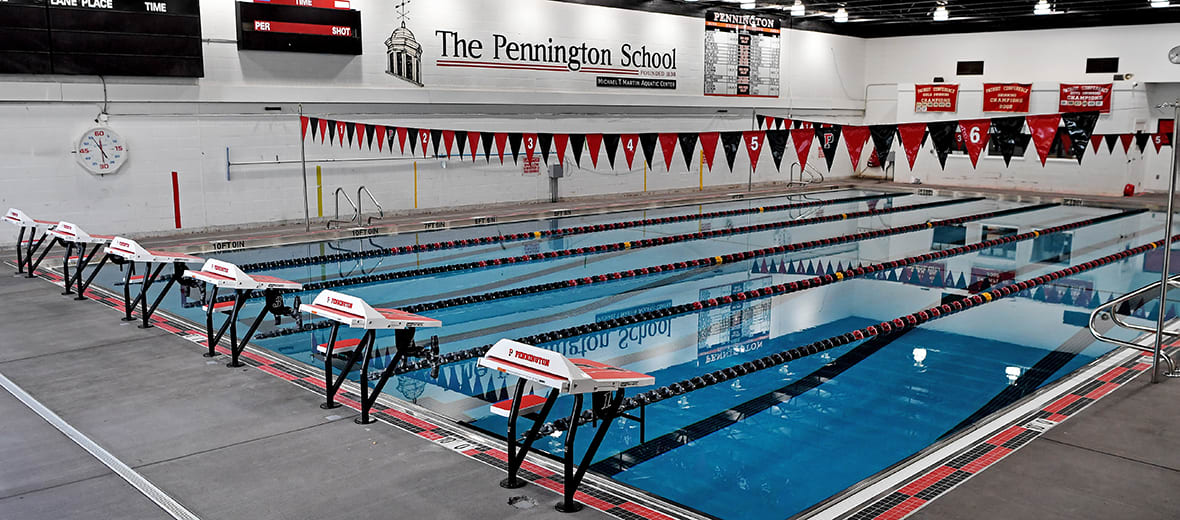 Team
Opponent
Date
Time
Location
Advantage
Result
Score
Swimming - Boys' Varsity

vs.

Pool - Michael T. Martin Aquatic Center
Home
Swimming - Boys' Varsity

vs.

Pool - Michael T. Martin Aquatic Center
Home
Loss
48-121
Swimming - Boys' Varsity

vs.

Blair Academy
Away
Swimming - Boys' Varsity

vs.

Moorestown Friends School

Pool - Michael T. Martin Aquatic Center
Home
Swimming - Boys' Varsity

vs.

Hopewell Valley Central High School

Pool - Michael T. Martin Aquatic Center
Swimming - Boys' Varsity

vs.

St. Benedict's Prep School

Pool - Michael T. Martin Aquatic Center
Home
Swimming - Boys' Varsity

vs.

Mercer County Community College
Away
Swimming - Boys' Varsity

vs.

Pool - Michael T. Martin Aquatic Center
Home
Swimming - Boys' Varsity

Lawrenceville School
Away
Swimming - Boys' Varsity

Franklin & Marshall College
Away
George Ward '88
Head Coach
Scott Doughty
Assistant Coach
Taylor Jennings
Assistant Coach